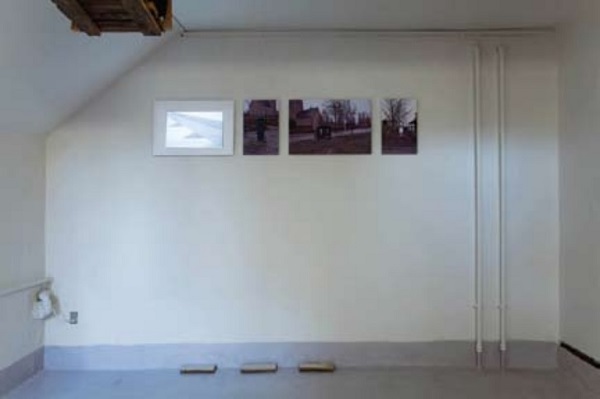 A site specific installation consisting of found wooden objects, photographs and a video at Galleri Image in Århus Denmark. It was the final stop of the 2009 to 2011 exhibition tour of the State Of L3 art collective. I was looking to trouble the idea of distance and proximity. From the Caribbean through St. Kruis in the Netherlands I arrived in Denmark to show that we aren't as removed from each other as we are taught.
My maternal great great grandfather was Danish and ended up in Curacao. My paternal grandfather was born in St. Croix which is now part of of the US Virgin Islands, but was a Danish colony. For this work I found out that throughtout the world there are 21 places called a variation of St. Croix. One of those is found in Zuid Holland and is called Sint Kruis. I travelled there with photographer Bernou Schram and took pictures of sights in the village.
I exhibited three pictures one of the church in the village, one of a water pump and one of children's slide, three pieces of wood and a video of the plane trip from Amsterdam to Århus. During the opening visitors were wondering if the church in the pictures was the same church of the Århus because of the same building style.
The work is now part of the Galleri Image collection.