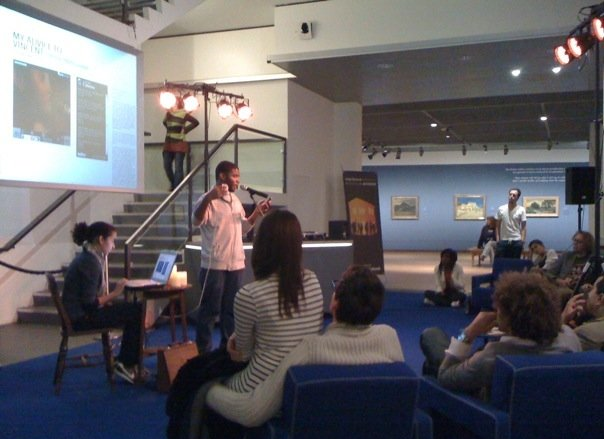 A performance for an edition of the Van Gogh Friday Night series curated by Effie Baert. The night was centered around the exhibition of the letters Vincent van Gogh wrote to his brother. For the performance I made a performance around contemporary communication and used Twitter, Facebook and Livestream to 'talk' to Vincent.
Going through heartache at the time I was drawn towards a letter in which he voiced his love for a woman he could not be with. I decided to write him a 'letter' with advice based on my own experience. Over the course of a week I coupled my Twitter and Facebook accounts and wrote advice in poetry form. One tweet and facebook status update after the other. My friends on those social media networks contributed to the advice I was giving. I was writing advice up to within an hour of the performance.
For the performance I performed all my tweets sequentially while wearing a t-shirt on which the night before I had spray painted with the text 'I Don't Believe'. I didn't quite know what it meant yet for the performance but felt that it had to be worn. The performance was livestreamed and beamed via a webpage I built on which I placed Van Goghs original letter, my tweets over the period of that week and the livestream of my performance.
I asked Najiba Abdellaoui to scroll along with the tweets so the audience could follow it themselves. In the livestream that was projected behind me you could notice when she stopped to look at the livestream and when she scrolled along with the Twitter feed. At various points during the performance I would also look straight into the webcam that I was holding. The webpage can found here.
Photo by Karin van Es.